Flash Product Detail Sample kit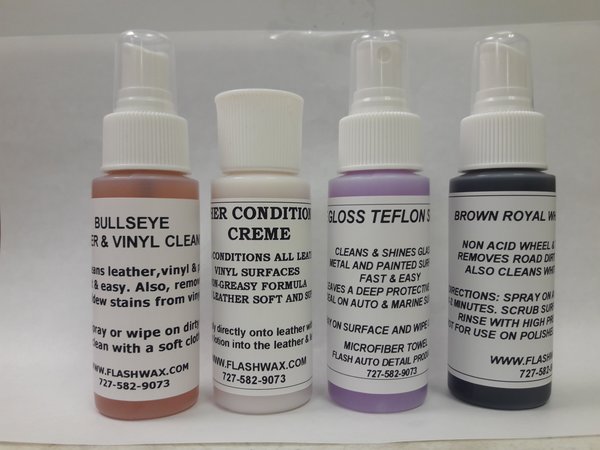 Flash Product Detail Sample kit
Flash Product Sample Detail Kit. This kit contains some of our Most popular products.

1 spray Bullseye Leather & Vinyl Cleaner. This product will safely clean, Leather/vinyl seats, door panels, armrests and also works great on Vinyl tops.
1 bottle of our Leather Conditioning Creme. This product will protect leather and vinyl surfaces. This non-greasy formula will restore dry leather to its original beauty. Lightly cleans, but mostly conditions.
1 spray Grape Gloss Teflon Quick Detailer. This product contains a powerful Teflon/Polymer wax formula. It will clean and protect, painted surfaces, glass, chrome, plastic instrumentation. Just mist and wipe. Will Not leave a powdery residue and will leave a water-beading shine.
1 spray Brown Royal non-acid wheel and tire cleaner. This product will remove road dirt and brake dust from factory clear coated wheels, chrome, wheels, alloy and painted wheels. It will also clean whitewalls and tires. Not for use on aftermarket unclear coated polished aluminum wheels.

Reviews